Eagle-eyed Royals fans will have noticed Prince Harry and Meghan Markle had more in common than usual on the first day of their Royal Tour of Africa.
The Duke and Duchess of Sussex were both sporting beaded bracelets spelling out the word "JUSTICE" during a visit to the troubled township of Ngaya in Cape Town on Monday.
The accessories were worn to promote The Justice Desk, a nonprofit organisation which helps children understand their rights, promotes their safety and helps uphold their self-esteem.
The charity also provides self-defence classes and teaches young girls self-empowerment.
The Justice Desk is supported by The Queen's Commonwealth Trust, of which Harry is President and wife Meghan vice-president.
The couple delivered speeches at the township, with Meghan saying "the work that's being done here is to keep women and children safer, which is needed now more than ever."
"May I just say that while I am here with my husband as a member of The Royal Family, I want you to know that for me I am here with you as a mother, as a wife, as a woman, as a woman of colour and as your sister," she added.
Harry and Meghan spent time to mingle and chat with the many children in attendance, with Meghan delighting the crowds with her dancing.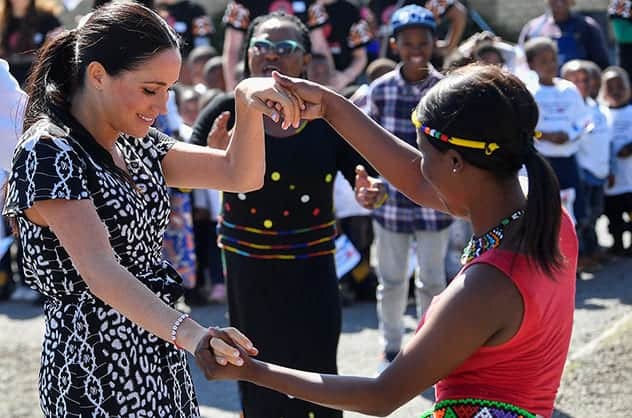 Ngaya has been a focal point of South Africa's struggle with gender violence, following the recent murders of eight women, which President Cyril Ramaphosa has described as a "national emergency".
Harry and Meghan are in Africa to promote several humanitarian projects and initiatives, and you can follow full coverage of their visit here – their first official Royal duty as a family with baby Archie.