The "Morning Show" actress, 54, launched her own hair brand, Lolavie, in 2021, capitalising on the fame of her perpetually perfect, trendsetting hairstyles over the years and the advice experts have given her to keep her locks in such great condition.
But it's the approaches she takes in other areas of her beauty and fitness routine that have gained attention recently.
Well-known for her commitment to healthy living and a varied exercise routine, she has been sharing more about the things she has tried and the difference she believes they have made.
Refreshingly honest about her approach to aging, she is nonetheless an early adopter of treatments that might help minimise the impact of the changes that happen naturally.
"Two things are inevitable," Aniston told Glamour last year. "The first, aging. The second, there's always going to be critics. For me, it's more of the question of how do I take the best care of myself, physically and mentally? We can still thrive when we're older, and that's thanks to all the advancements in health, nutrition, technology, and science."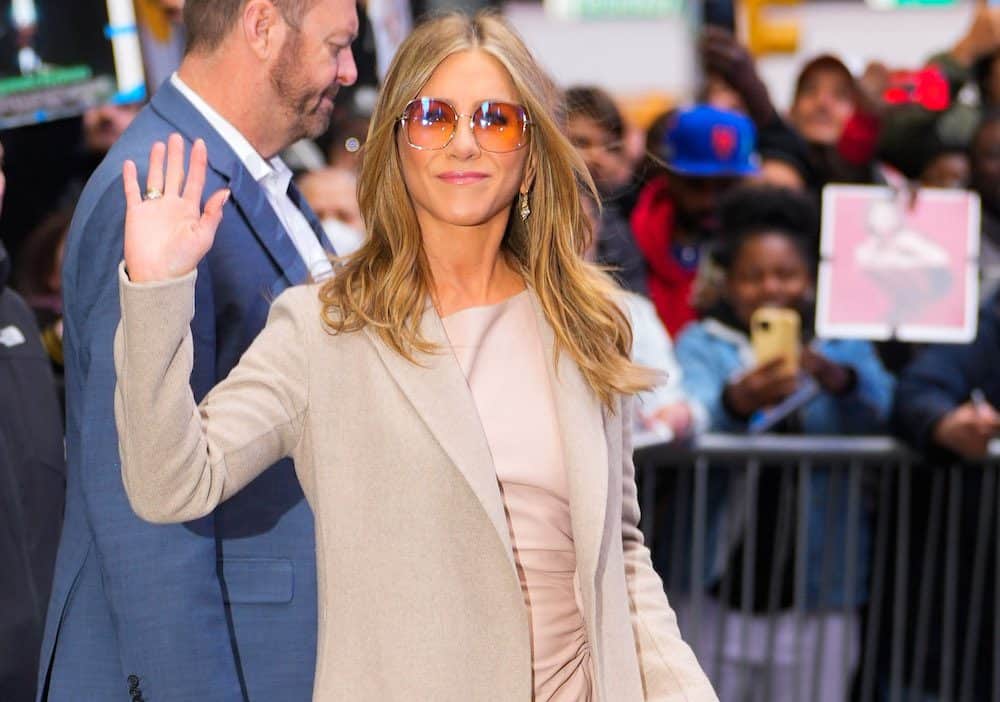 Salmon sperm facial
The "Friends" star spoke of her experience with a salmon-sperm facial beauty treatment during a recent interview with The Wall Street Journal.
She told the publication that when it comes to looking young, she's open to trying just about anything at least once in her life.
Aniston confessed that when an aesthetician recommended the salmon sperm facial to her, she was intrigued, even though she wasn't entirely sure what it was.
"First of all, I said, 'Are you serious?'" the star recalled. "'How do you get salmon's sperm?'"
In the end she gave the unique treatment a go, though she admitted she's not entirely sure she noticed a difference in her skin.
However research reported by the National Library of Medicine has shown that an extract of sperm from salmon, known as salmon PDRN, restores skin's elasticity, repairs skin's moisture barrier and helps minimise inflammation.
Already popular in Korean skincare, the ingredient has even recently been flagged as a skincare ingredient to watch, likely to take off with wider attention around the world.
Compression trousers
Lymphatic drainage has become a hot topic in recent months and Aniston is again, an enthusiastic adopter.
The star posted an image of herself on Instagram wearing inflatable compression trousers while lying on a gym floor, undertaking the treatment for a lymphatic drainage massage post-workout.
The treatment helps to increase circulation by laying in an inflating compression garment which applies a gentle or firm massage to the lower half of your body.
Lymphatic massage is used to aim to drain excess fluid from the immune system's lymphatic network to minimise swelling, reinvigorate muscles and give a smooth and toned appearance. Some reports say it can also minimise the appearance of cellulite.
Peptide injections
Though she was skeptical about seeing results from the salmon sperm facial, Aniston was more enthusiastic about another treatment.
She told The Wall Street Jounal she "swears by," weekly peptide injections. "I do think that's the future," she said.
So what was she talking about?
Peptides are well known for their use in skincare. Peptides are made up of chains of amino acids, the building blocks of certain proteins such as collagen and elastin. In general they are signaling molecules that can stimulate the cells in our bodies to perform specific, targeted functions. In skin, they are responsible for skin's texture, strength, and resilience. We need peptides to keep our skin feeling firm, plump and keep wrinkles and loose skin at bay but as we age our natural peptide levels decrease.
Applied topically they are thought to help boost skin. As injections, peptide therapy can refer to peptide injections or oral peptide treatments with the aim of improving various health conditions and help with skin rejuvenation. Injected, they may have greater penetration and efficacy.
There are many types of peptides and though more research is needed, there has been much hype around the use of injectable peptides to counteract aging and reinvigorate certain functions in the body.
Collagen supplements
Signed up as Chief Creative Officer of collagen brand Vital Proteins in 2020, Aniston had been vocal about her love of supplementing her diet by adding collagen powder to her coffee or smoothies for a number of years prior.
Collagen formation is important for healthy connective tissue, skin function and structure, including skin hydration and firmness. Supplementation aims to maintain the natural processes in our body that keep collagen production at an optimal level.
The star is still a big proponent of the approach, saying it helps with her hair, nails and general health.
""I've been using Vital Proteins specifically since 2014," she told Instyle. "My doctor gave it to me and said, put this in your shake in the morning. I noticed the difference in my hair, my nails, my workouts – I just noticed a real benefit from it" she says.
With all the commitment to vitality, the actress does give herself some leeway when it comes to her eating. She shared that Sundays are for inviting her friends over for homemade In-N-Out burgers.