Archie's debut appearance
Top of the list has to be baby Archie's first official outing in public.
The five-month-old royal was introduced to Archibishop Desmond Tutu and his wife Leah Tutu at their legacy foundation in Cape Town on the third day of the Royal Tour.
Archie looked adorable in baby-blue striped dungarees and matching booties.
Click here for our full coverage of the Royal Tour so far
Meghan's moves
Not long after touching down in Cape Town, the Duchess of Sussex shook off any travel weariness by dancing with the locals.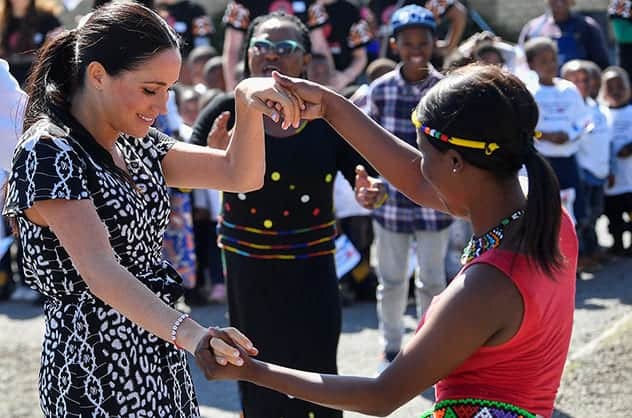 There were whoops and cheers as Meghan joined in with the traditional dancing on their first public engagement of the tour.
She later made an impromptu speech, saying "I am here with you as a mother, as a wife, as a woman, as a woman of colour and as your sister."
Harry's tribute to mum
In what was a poignant scene, Prince Harry evoked memories of his late mother Princess Diana when he retraced her footsteps through an Angolan minefield.
Harry was joined de-mining workers from The Halo Trust, the same charity his mum was helping during her visit in 1997.
The Duke of Sussex had split off from Harry and Archie for a few days to visit projects and initiatives in Angola, Botswana and Malawi, before rejoining them in Johannesburg in South Africa.
Meghan's surprise Skype call
Cementing her popularity with local communities on this Royal Tour, there was huge jubilation when Meghan popped up on a large TV screen via Skype to take part in a discussion about female empowerment at a school in Malawi.
Harry had been leading a workshop with alumni of CAMFED (the Campaign for Female Education Alumnae Association), a charity working to empower girls by keeping them in school and providing them with the best possible education.
Meghan's marvelous outfits
On this Royal Tour, Meghan has proved she's a strong proponent of sustainable fashion.
She's been spotted wearing the likes of sustainably-minded Kiwi designer, Maggie Marilyn; cult US-based label, Reformation; and environmentally friendly Veja shoes.
Over the course of the tour, eagle-eyed fashionistas have noticed Meghan wearing a few familiar-looking outfits from outings gone by – we've rounded them up here.