Among her many accolades, Hiakai's Monique Fiso has recently taken home the 2020 New Thinking Award at the Wellington Gold Awards.
We sat down with Fiso to hear about her rise to fame and philosophy of food.
8 things we learned about Monique Fiso
Her Wellington restaurant was named one of Time's 100 Greatest Places. In 2019, Hiakai made the list as one of Time magazine's 100 Greatest Places, with Fiso noted for her "appreciation for native ingredients in New Zealand" and fostering "new supply chains for those who want to cook with them".
She believes there are no rules when it comes to food. Getting her start working for renowned Wellington chef Martin Bosley, Fiso learnt there are no rules when it comes to flavours and plating. "When I think of some of the dishes, he was looking at food totally differently. I was so glad I worked for him at that age. I think it set me up for the rest of my career," she says.
She guided Gordan Ramsey around New Zealand. Fiso's rising international profile led her to being asked to guide acerbic English chef Gordon Ramsey around the country, to dig a hāngi pit and hunt wild goats for his Gordan Ramsey: Uncharted television show.
She loves playing with flavours – and connecting them to tikanga Māori. In her Matariki menu, Fiso's first dish used modern techniques to make a pork consommé with kumara and butternut dumplings and kawakawa kimchi. The next, a terrine with honey-miso dressing. "These dishes present totally different flavours from the same ingredients, and it links the interlinking stories of Papatūānuku and Tupu-ā-nuku really well."
She's developed a love for non-alcoholic drinks. "During lockdwon, I upskilled my drinks. While I was making food, I looked at how better to match the non-alcoholic pairings, and people have been raving about them," says Fiso.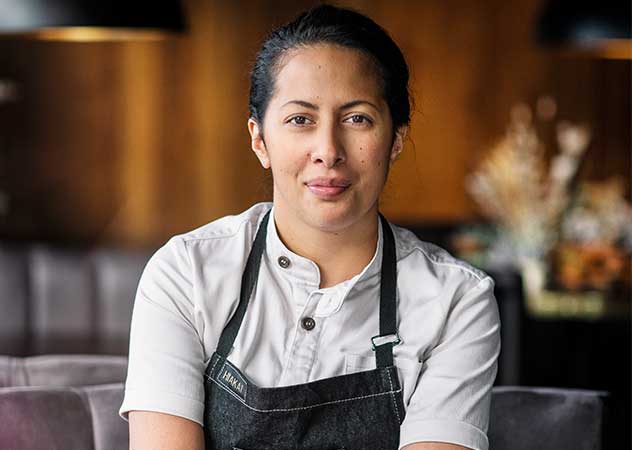 Her New Zealand destination dish would be… "One that somehow incorporated our wild-harvested titi or muttonbird. For those who haven't tried it, a freshly roasted titi has a taste that you could possibly describe as a cross between duck and lamb, but brushed liberally with anchovy butter during the cooking process."
She champions indigenous ingredients. Reflecting on the challenges of COVID-19, Fiso says "If the borders close again, at least we know we have access to kawakawa, horopitu, karamū, kiekie, pikopiko – we're not going to have to rely on a freight ship."
She's not expanding her Hiakai empire…at least for now. Fiso says she's been asked about setting up a Hiakai outpost in Auckland. For now, that's not on the cards. "Some people are great at having multiple restaurants," she says. "I never wanted an empire, I wanted a place where I could express myself and do what I love."
Inspired by indigenous ingredients? Meet the Kiwi forager living off the land.