A big trend in the luxury industry right now is that consumers are spending up on luxury experiences – not just high-end goods, such as watches and bags – so brands have to understand that their customers are travelling to new places, seeking new experiences and need clothing that is up to the task and relevant for their time and place.

Across the fashion capitals, in the beautifully lit windows of the boutiques on the most exclusive shopping streets, there is a new movement. Modern tailoring is being merchandised with sportswear items such as sneakers and technical knitwear to help redefine it as an appropriate choice to wear for experiences outside of the corporate world or that don't require classic ceremonial wear. Suits designed with enhanced movement through clever fabrications and body-conscious silhouettes are incredible to try on – you feel active and sporty, although conscious that this sportiness requires time spent in the gym. But it also says something about an attitude of getting out there and enjoying new experiences. Having fun while wearing active, sports-inspired suiting doesn't make sense when worn with a pair of leather-soled tasselled loafers.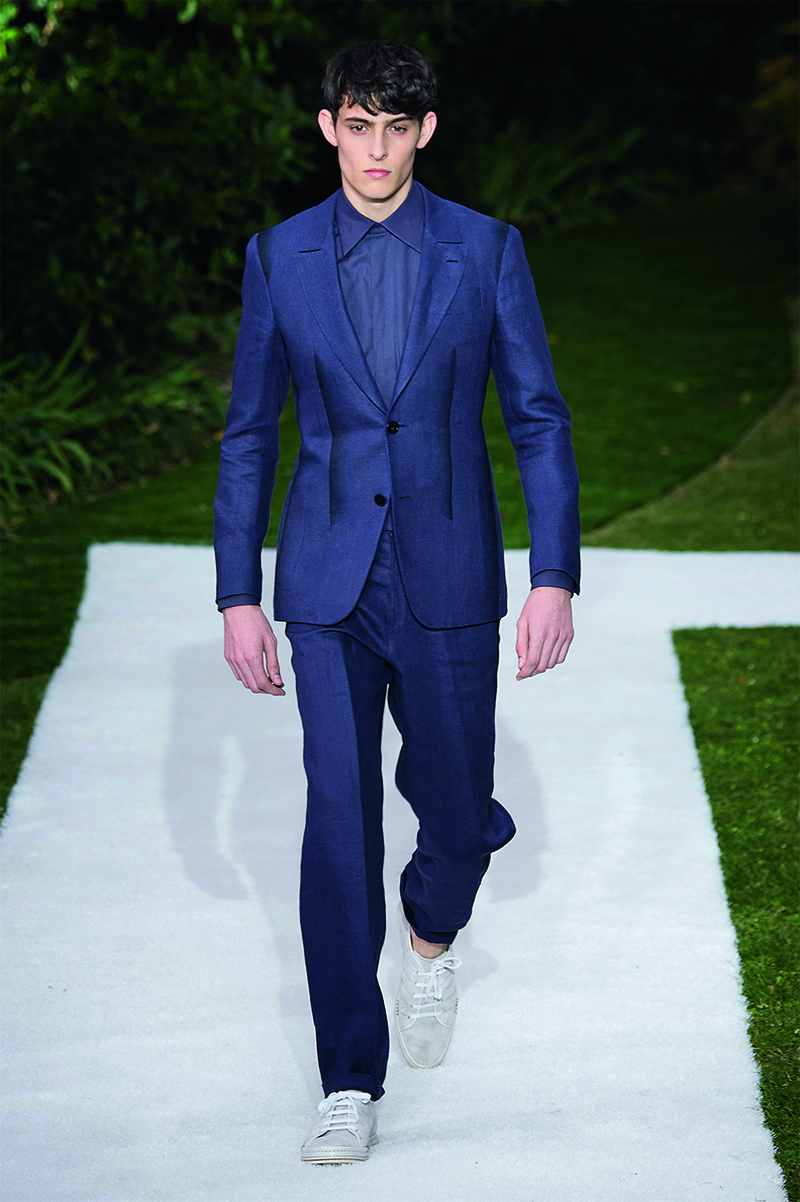 This has led to the inevitable global trend for brands to create a luxe sneaker range, which has hit the suiting market. Every brand worth its salt now offers a sneaker (a concept already a couple of seasons old) but now it is considered plausible to pair a sneaker with tailored garments and not look like a university lecturer. Not only does this trend encourage activeness and embrace the notion of seeking an experience, it also makes sense when doing business in a modern city increasingly dominated by time pressure and short commutes by foot.

I saw the light last month. My boss Tim and I were preparing for a day's business in New York during the worst snowstorm the city had seen in 28 years. I was wearing a tailored flannel blazer, cashmere knitwear and trouser combo and my "Zabriskie" boots from Saint Laurent; it was a particularly strong look for a hotel lobby. However, the meeting was two kilometres away, no taxis were on the road and there was a serious blizzard outside. I only had the Cuban boots with me so I had no choice.

This first instance of sport shoes being relevant as a modern tailoring solution hit me hard as I took a tumble on black ice. Tim, wearing appropriately sporty, stylish, rubber-soled boots, got through completely unscathed and looked back to see me buried in the snowdrift on the sidewalk. A not-so-stylish, or comfortable, moment as I sat through the day's meetings with soaking trousers.
I will definitely not be encouraging men to wear sneakers in the boardroom with their classic suiting, as I love formal footwear and tradition too much for that. What I will be encouraging, though, is the addition of an excellent pair of sports-inspired shoes for those times when it is entirely appropriate and makes total sense to wear them: and yes, that can be with the right kind of suiting.