Once there was just lipstick.
Who knew the lip colour category had the potential to be segmented beyond that into so many different product types?
But with new ingredient and formulation development that's exactly what's happening right now.
While it makes choosing a product to suit confusing and overwhelming, the upside is better performance, fabulous new colours and more enjoyable products to use.
One product in particular is catching a lot of buzz right now, and it's largely thanks to Selena Gomez. While the star is best known for her music career, her beauty line Rare Beauty has proved to be a surprise hit that has gained popularity well beyond her fan base. In its first couple of years Rare Beauty has consistently offered wearable, easy-to-understand, yet beautifully formulated products in on-trend shades.
Now, everyone is talking about Rare Beauty's latest release. With glossy lips and sheer lip tints all the rage again, the arrival of Rare Beauty's Soft Pinch Lip Oil is perfectly timed, because it essentially combines the two. Its finish is slightly less shiny than others on the market but the 'slip' and comfortable feeling are similar attributes.
 What are lip oils?
Chances are if you love the skin-nourishing effects of adding a face oil to your evening routine, you'll love the smooth, soothing tints that the latest releases have to offer. 
Made with plant oils infused with a sheer dose of colour, they feel slippery but not sticky and won't trap your hair the way some glosses do.
Intense patent shine is back in a big way for lips, but if your lips tend to be on the dryer side, some glosses can dry them out even more, especially if they have ingredients like mint or menthol, designed to give a plumping effect. Gloss also tends to catch around flakes, making them even more obvious. 
If the nourishing feel and soft glide of a lip balm appeals, but you wish there were better colour options, we highly recommend trying one of the new lip oils.
Unlike the rest of your body, your lips don't have any oil glands, meaning they're seriously lacking in both nourishment and protection and one of the first areas to feel dry. The difference between the skin of the lips and the face in particular is that the stratum corneum, which is the protective cover of our epidermis (the top layer of our skin) is far thinner on the lip area than anywhere else on our body and therefore less protective and more fragile.
Many balms are made from occlusive waxes designed to protect your lips from the elements while preventing loss of moisture. Lip oils on the other hands are made of oils like almond, olive, jojoba, avocado, hemp seed, castor oil, and rosehip. Because these natural ingredients contain fatty acids, vitamins, and antioxidants, they're better at providing natural nourishment for your lips.
Must-Have Lip Oils
While newer versions are able to suspend more pigment and keep that colour on lips, other lip oils are very sheer and offer more see-through shine. There are in-between neutral-toned options too.
Rare Beauty Soft Pinch Tinted Lip Oil
The new arrival that is snowballing in hype. It has a unique gel or jelly-like texture that transforms to a non-sticky oil as it glides on. As it dries it leaves a weightless tint that can be layered for more depth of colour. It's formulated with jojoba seed oil to maintain hydration and antioxidant-rich sunflower seed oil to protect your lips. It's also vegan and cruelty-free and made without parabens, sulfates, phthalates, and other irritating ingredients.
Another hero of the category, Dior's Lip Oils are a viral sensation on social media, partly thanks to their brilliant shine and ease of use, and partly no doubt because of their beautiful packaging. It's a delight to whip one of these out at the table, and because they are so sheer you won't need a mirror to re-apply. They really come into their own in summer time as they are perfect for a more relaxed 'no makeup makeup' look. They deliver what the brand calls 'an almost magnifying, mirror-shine effect' and we reckon that's not far off.
ILIA Balmy Gloss Tinted Lip Oil
This clean beauty brand is perhaps the most subtle of the bunch, but with beautiful wearable and neutral options to suit everyday looks. The initial shine wears off to a lovely cream lip colour finish and ingredients including hyaluronic acid and Meadowfoam seed oil help to ensure lips feel hydrated and protected from moisture loss.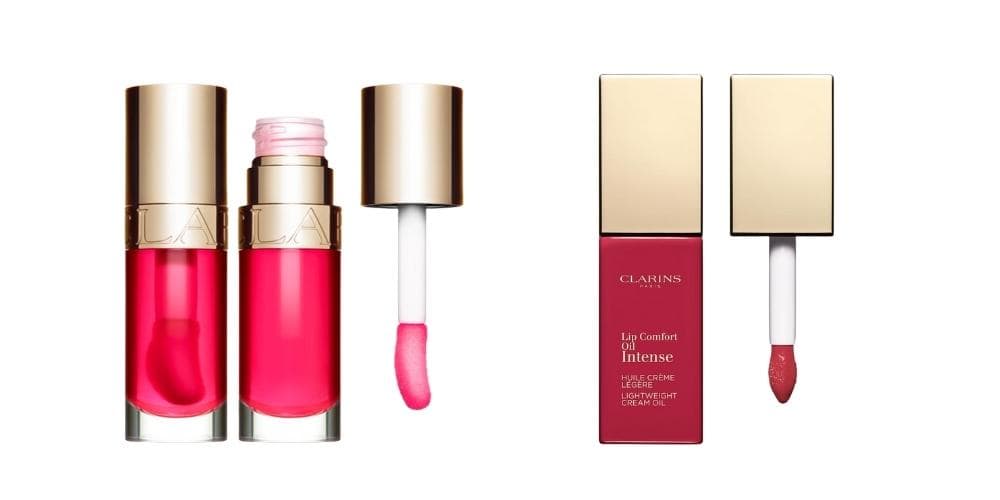 Clarins has been onto the benefits and smooth texture of lip oils for a while. As such the brand has three different options, the sheer tinted Lip Comfort Oil (above L), a shimmer version of Lip Comfort Oil and a more highly pigmented version, known as Lip Comfort Oil Intense (above R). Each of them are a delight to use, particularly the see-through version that swipes on easily and enhances your natural lip colour beautifully and looks slightly different of everyone. The plant oils used are organic jojoba, hazelnut and Sweetbriar rose.
Kosas Wet Lip Oil Plumping Treatment Gloss
Kosas started out with a much smaller range of this product but its popularity really took off given its luscious shine and silky feel. The original clear 'Jellyfish' shade is still popular but now there are 10 other shades to choose from, with sheer tints or shimmer finishes. The respectable ingredient line up boasts hyaluronic acid, peptides and evening primrose oil to hydrate, firm and protect your lips in the long run.