Makeup brands have spent decades and a truck-load of money trying to figure out how to make products that last as long on your face as you want them to.
We're now in the era of foundation that promises to last more than 24 hours. Maybelline's SuperStay 30H Foundation may currently offer the long-lasting claim out there. 
It's because when you put some serious work into getting your makeup just right, it's seriously annoying to have it melt off by lunch or the first round of drinks. 
Those companies have made some useful innovations over the years, but there's another secret weapon in the quest for makeup that's practically invincible. 
While using long-wear products and setting with translucent powder is a good idea, it's also helpful to finish your makeup with a makeup setting spray to ensure each item you've applied has lasting-power, not just your foundation. 
What is setting spray?
Just as hairspray is to your flyaways and top coat is to your manicure, makeup setting spray helps with longevity.  It keeps your makeup from smudging, creasing or fading until you want to remove it.
While it can be used every day, it's particularly useful when you're attending a special event where you won't be able to touch up, if the weather is very warm, or when you want to avoid colour rubbing off on the inside of your face mask.
One area of confusion is the number of face mists and spritzes out there. All are not one and the same. 
'Finishing' or 'refreshing' facial mists are similar but designed to deliver moisture to the skin, while setting sprays deliver a microfine mist that locks makeup in place. The former can be used to refresh makeup that's gone a little dry and cakey or over matte foundation for a little 'real skin' glow, while the latter is generally used to keep makeup on for longer. 
What's the best way to use it?
Makeup setting spray should be the finishing touch after you've applied your foundation, mascara and lipstick. Simply hold the bottle around 20-25cm away and with your eyes closed, spray your face lightly. Some people like to spray in a T or X formation, to ensure good coverage, but you don't need to drench it.
The Best Makeup Setting Sprays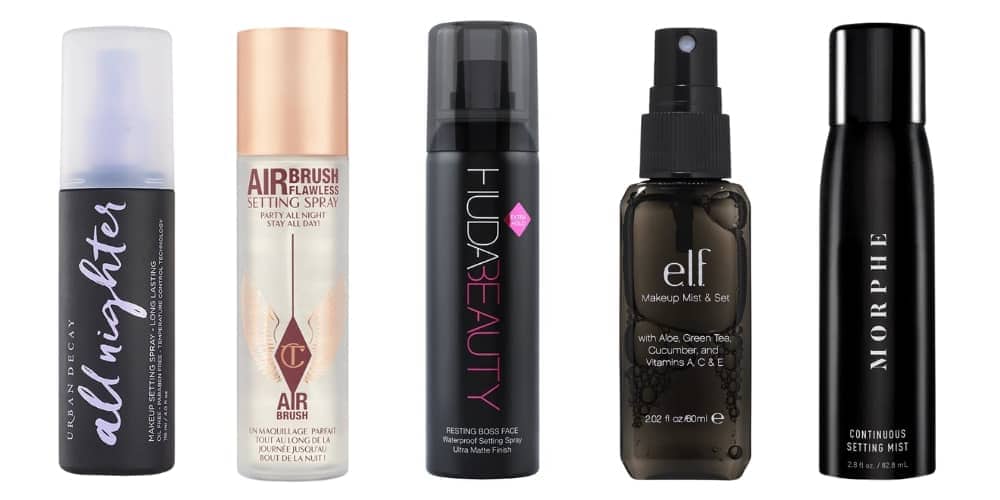 While there are plenty of great options now available, these sprays are particularly high achievers in the category.
One of the originals and arguably the best, this setting spray is well loved by makeup artists and consumers alike. It was originally created in partnership with a brand called Skindinavia. That brand's original sprays are still widely available and along with the Urban Decay version, they contain Skindinavia's patented cooling technology that's said to lower the temperature of the makeup on your face, helping it to last as well as maintain hydration. It also won't clog pores.
Quickly gaining a reputation for its excellent performance, this one wont leave your skin looking quite so matte so it's a good option if you're a fan of a little glow. It also provides skin more hydration than other options.
While it may feel a little like hairspray for your face and it has a definite fragrance that can put some people off, this is still a worthy option if you're after longevity. It has an oil-controlling matte finish and the large can is likely to last you until the end of mask-wearing is in sight (we hope!)
At just $11, this affordable option is a worthy addition to your routine. It moisturises and soothes the skin and has a number of skin-loving key ingredients including aloe, green tea, cucumber and vitamins A, C and E. It also skips the alcohol most sprays use, which can have a drying effect on skin.
This option has the finest mist of all we've tried, meaning it feels like it settles a lightweight veil over skin to lock it in place.  It also doesnt make foundation look dry or cakey. You can also use it to  spritz on your favourite eye brushes for more intense pigment pay-off.